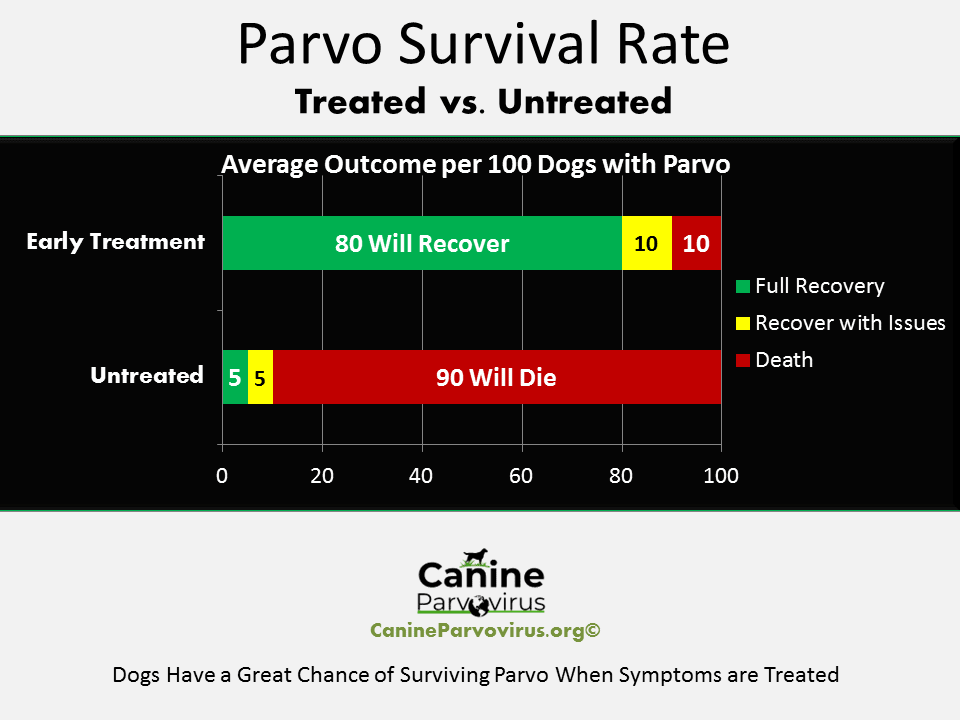 Canine Parvovirus Survival Rate
For such a deadly and contagious virus, survival rates are quite good when dogs are afforded early professional treatment. Statistics show a promising parvo treatment success rate of around 90%. Out of that 90% about 80% will have a full recovery, while 10% will experience health issues.
For the most part, dogs that survive parvo build an immunity that lasts for years and perhaps the rest of their lives. Comparatively: 90% of dogs who receive no treatment for their parvo symptoms will likely die.
More FAQ's on Parvo Survival Rate
What are the chances of my healthy dog surviving parvo?
Parvo survival rate with prompt treatment is high. If your dog is otherwise healthy and receives early treatment, chances are good that they will be able to defeat parvo. About 90% of healthy dogs who receive proper treatment recover. Of the 90% survivors, about 10% may experiences some residual health issues, but about 80% will have 100% full recovery.
Can my older dog survive parvo?
Yes, age is not as important as overall health, susceptibility and early treatment. An older dog can definitely survive parvo when given the proper care. Proper care means professional medical attention from a veterinarian.
Can my puppy survive parvo?
Yes, puppies have survived parvo. This virus is especially hard on a puppy's young body and puppies dehydrate quickly, but they can survive parvo when they receive prompt and early treatment by medical professionals.
Parvo treatment success rate – Is treatment really successful?
Early treatment of canine parvovirus is highly successful, in fact it's about 90% successful. Most dogs who do not recover from parvo do not survive because they didn't receive treatment.
My dog survived parvo now what?
That's great news! Most dogs that survive parvo without complications will have an immunity that lasts for years, if not their whole life. However, you cannot be 100% certain. Because strains mutate and protection wanes, dog's that have survived parvo are often recommended to continue with boosters every 3 years or have titer tests performed. A titer test will show how much immunity your dog has against parvo. Follow your vet's recommendation.
If you did any in home treatment and haven't disinfected your home and dog's surroundings, it's time to get rid of the virus. The virus can live for years unless you disinfect with products that kills parvo.
Where to next?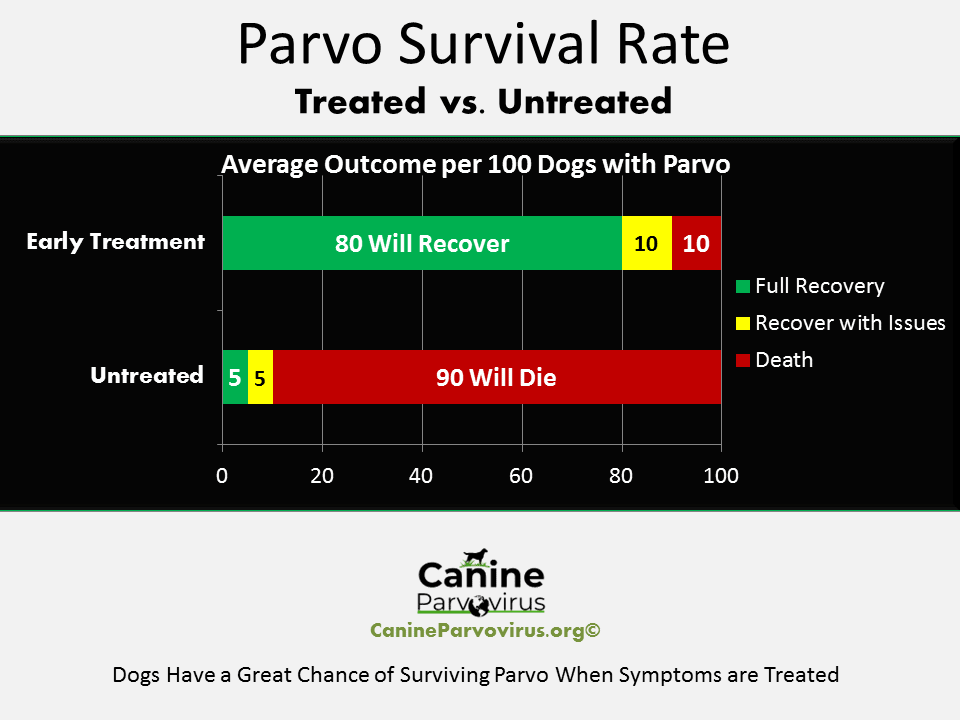 Share this Image On Your Site